Explorer
Summer in France | Auvergne Rhône-Alpes
Head for Auvergne Rhône-Alpes with Huttopia.
Can't wait to see your loved ones again and enjoy nature and sweeping green landscapes? Don't leave it any longer to plan your next holiday in France; head to one of the 11 Huttopia campsites and villages in the Auvergne-Rhône-Alpes region. Wave goodbye to stress and lockdown and come and join us for a countryside getaway as a family, a group of friends or a couple. Here are three holiday ideas for you, all less than two and a half hours' drive from Lyon.
Discover our Auvergne Rhône-Alpes destinations.
And as we love sharing holiday ideas, we decided to give you some inspiration for your next getaway in the heart of nature. Come and enjoy nature and a sense of freedom in Dieulefit, at the Lac d'Aiguebelette or by the Gorges de l'Ardèche. Reconnect with your loved ones and bring your focus back to what's really important in one of the most beautiful regions of France. So, let's get to it! It's time to get dreaming of your next holiday.
Lavender, Nougat and the Provençal Way of Life at Huttopia Dieulefit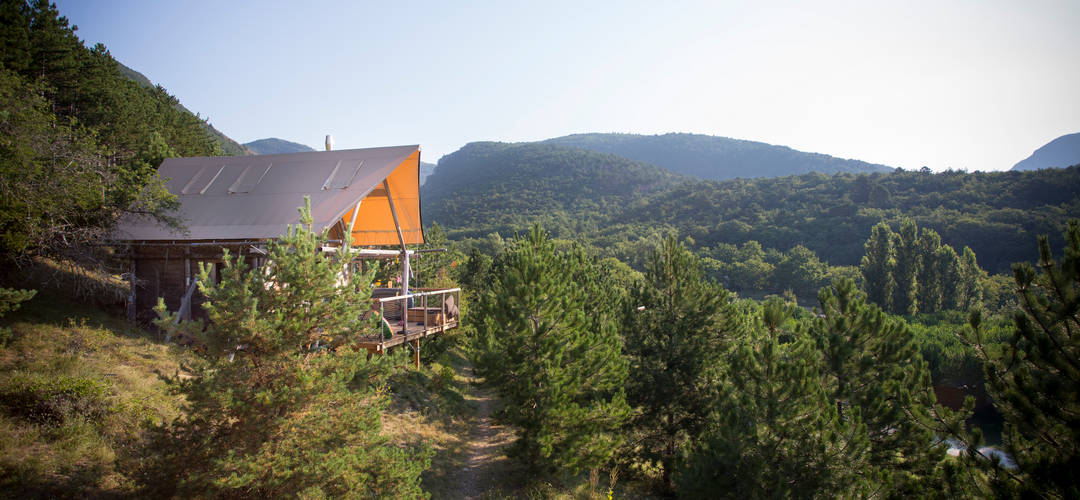 The Huttopia Dieulefit Village is nestled amid woods and mountains in the heart of the Drôme Provençale, 105 miles from Lyon. You can admire the lavender fields and Saint Maurice mountain from your Cahutte. Speaking of the mountain, we'd recommend hiking to the summit. There's around 9 miles of trails and nearly 650 metres of elevation gain, so anyone can enjoy it, sporty or otherwise! Huttopia Dieulefit is 100% pedestrianised with no Wi-Fi… and trust us, after a long period of lockdown, it will do you good to disconnect from phones and Netflix for a while.
_
You can fill your days with the free activities provided for kids and adults at the campsite every day. Archery, yoga, lavender distillation, beauty product making… There's something for everyone. The kids can even take part in an essential oil making workshop while you relax by the pool.
_
While you're in the area, take the opportunity to discover the secrets of France's lavender country and the village of Dieulefit, which has earned the status of 'Ville d'Art et d'Artisanat' (Town of Art and Crafts). There, you'll find pottery studios and ceramists, as well as markets selling local produce along with nougat, olives, truffles and – most importantly – good wine. We also recommend visiting the Château de Grignan and the villages of Poët-Laval and La Garde Adhémar.
_
Village Huttopia Dieulefit *** – Quartier d'Espeluche, 26220 Dieulefit
Turquoise Waters, Hiking and Good Food at Huttopia Lac d'Aiguebelette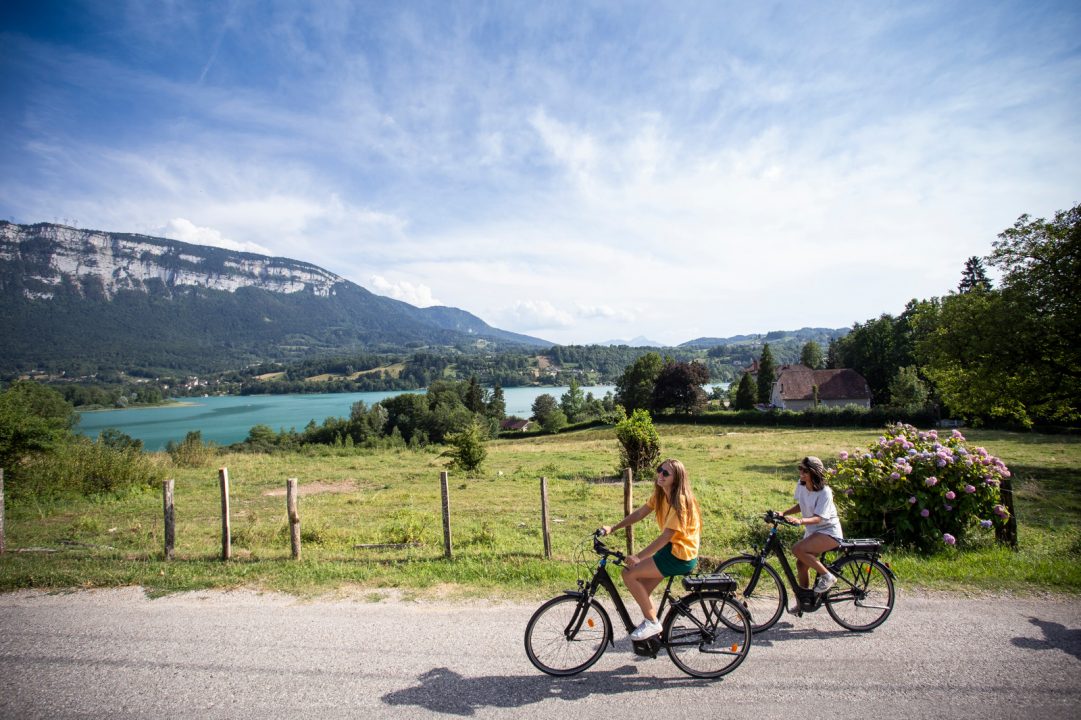 Whoever said you have to go halfway round the world to sunbathe beside crystal clear waters? It's possible in France, and you don't even have to go to the Med. Aiguebelette lake in Savoie, less than 65 miles from Lyon, is the perfect place to get your fix of swimming and relaxation. This beautiful oasis is ideal for watersports and hiking. To get the most out of it, opt for one of the accommodation options at Huttopia Lac d'Aiguebelette. You'll be near some of the most beautiful beaches in the area.
_
Think paddle boarding, canoeing and swimming in 27°C waters… All that and more is waiting for you on your lake and mountain holiday at Huttopia Lac d'Aiguebelette. Sporty types and nature lovers will be in their element. This peaceful destination offers both accommodation in tents and chalets and the possibility to hire a pitch and bring your own tent for a more traditional experience. In the evenings, you can come and eat pizza with the family outside the Central Lodge, with its fun and friendly atmosphere! In the mornings, the kids can take part in the Little Trappers activities and go and pick plants. Then in the afternoon, time for high ropes! You get the picture… You've got no chance of getting bored.
_
From Lac d'Aiguebelette, you can also go and walk along the shores of Lake Annecy or Lake Bourget. When it comes to hikes, you're spoiled for choice. The ruins of the Château de Montbel, Dent du Chat and Mont Grêle mountains or hiking trail Les Voies de l'Epine… The choice is yours.
_
Huttopia Lac d'Aiguebelette Campsite **** – 231 Route du Sougey, 73610 Saint-Alban-de-Montbel
Unforgettable Scenery and Relaxation at Huttopia Sud-Ardèche
Would you love to see the Gorges de l'Ardèche canyon and its natural bridge, the Pont d'Arc? Then come to Huttopia Sud-Ardèche this summer. Only two and a half hours from Lyon, it's the ideal place to recharge your batteries in the summer. It's a little slice of paradise, 100% pedestrianised and with no Wi-Fi, with a pizza oven for fun family meals. Here, anything is possible. You can hire a bike and explore the surrounding forest, attend a yoga and meditation class or simply enjoy the outdoor pool or the forest spa. You should try out the experience of a sauna surrounded by nature too. The spa area is free for all campers to use.
_
If you're in a Bonaventure tent, a Trappeur tent or a Cahutte, you'll also have use of the plancha grill provided on your deck. Don't forget to go and buy some meat and vegetables to grill at the morning market in Vallon Pont d'Arc. The kids can do some archery or play board games in the communal area, and stories, plays, dance shows and concerts await them in the early evenings. There's certainly no shortage of entertainment here. Come together for a drink on the Central Lodge's large deck.
_
When it comes to places to visit, don't miss the villages of Balazuc and Labeaume, named amongst 'France's most beautiful villages'. The prime viewpoints at the two villages give you unobstructed views of the canyon and homes built in the traditional style of the Ardèche.
_
Village Huttopia Sud-Ardèche *** – 145 Route D'Orgnac, 07150 Vagnas