Explorer
Summer in France | Nature near Paris
Are you dreaming of getting away from city life?
Don't leave it any longer to start thinking about your summer holiday and get planning the adventures you can have less than 75 miles from Paris. With a choice of three campsites and villages near the French capital, Huttopia has an unforgettable countryside holiday in store for you in the Paris region. Get back together with your loved ones for a camping experience in the great outdoors and a weekend of adventure. Here are three holiday ideas for you.
Are you dreaming of getting away from city life? Do you need to get back to nature? Spend some time with your loved ones? Well, you don't need to travel too far to get a change of scenery and stay in remarkable surroundings. Let go of the stresses of the difficult times we've had and treat yourself to a peaceful break.
With Huttopia, you can stay in wide open spaces, surrounded by nature, in Rambouillet, Senonches or Versailles. Bike rides, swimming in a natural pool, forest spa, cooking on a plancha grill at sunset, pétanque with the family… All this and more awaits you in the Paris area. We decided to make things easier by giving you three ideas for holidays near Paris, so all you need to do is pick!
_
---
_
1 | Accommodation in the middle of the forest at Huttopia Rambouillet
Fancy spending the night near a little lake in the heart of a forest, less than 40 miles from Paris? Well, you can!.
Head to Huttopia Rambouillet in Yvelines for a great forest holiday. Forget all the stress of recent times and get back to the simple things in a natural setting. Our campsite, located in Rambouillet, has different types of accommodation available, ranging from cabins and Cahuttes (a combination of chalet and tent) to wood and canvas tents. You can also hire a pitch and set up your own tent for the more traditional camping experience. All of the pitches and accommodation are located near the lake, the Etang d'Or.
_
As the first rays of the sun peek over the horizon, go and collect your fresh bread from the Huttopia Rambouillet Central Lodge and have a family breakfast on the deck of your Cahutte. Enjoy a picturesque bike ride in the village's forest, admire the fawns with your kids or go and listen to the bellowing of the stags. The forest of Rambouillet, also known as the forest of Yvelines, is also the perfect place to spot birds of prey or go fishing on the Etang d'Or.
After a good dose of sport, unwind in the campsite's natural swimming pool. It is chlorine-free and provides an extraordinary setting for relaxing and cooling down. Finally, the kids can play board games at the Central Lodge or simply take part in a free activity run by Huttopia Rambouillet. There's something to suit all tastes and all ages.
_
When it comes to day trips, you can go walking in the forest or the La Chevreuse or Véxin regional parks. Don't miss the Musée du Jeu de l'Oie (Goose Game Museum) in Rambouillet, Marie-Antoinette's dairy and the châteaux.
_
Camping Huttopia Rambouillet – Rue du Château d'Eau, 78120 Rambouillet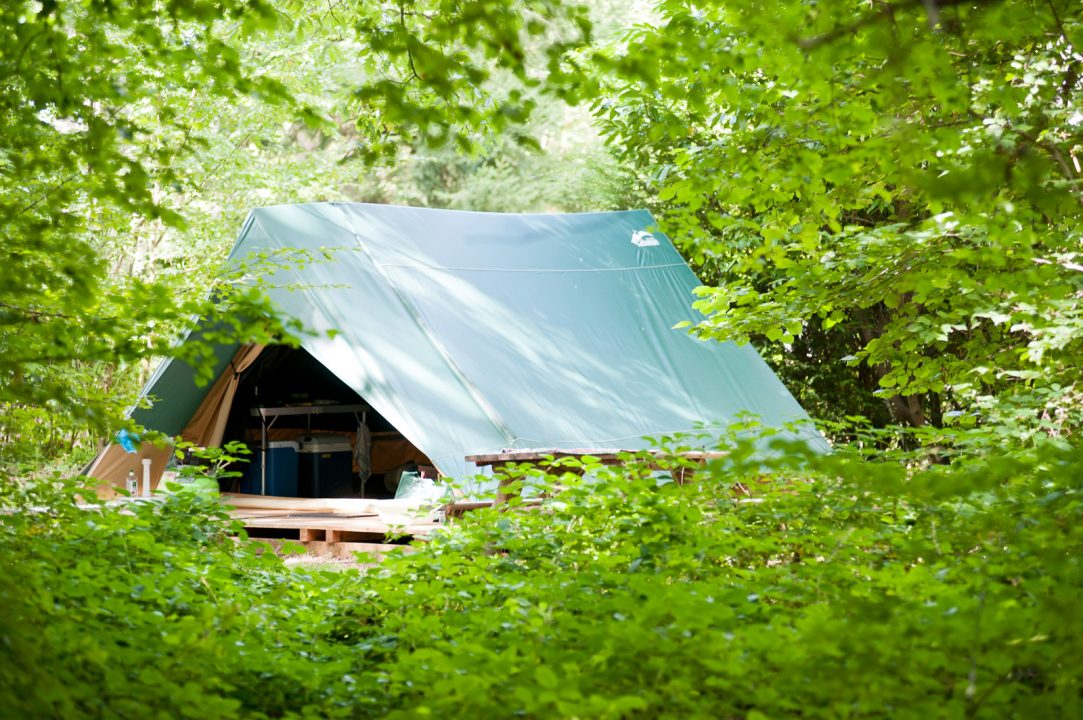 2 | Canada 120km from Paris – welcome to Huttopia Senonches
Choose Huttopia Senonches and its idyllic natural setting for your next holiday as a family or a couple. Located in the heart of the Perche area, just 1 hour 40 minutes from the centre of Paris, the Huttopia Senonches village offers a great chance to disconnect from your everyday life, with the sense of freedom that comes from being surrounded by wide open spaces. Everything just happens at a slower pace here and it does you good! The birds tweet away in the tall trees of the national forest from morning to night. The warm colours of the sunsets reflect off the village's little lake and the communal areas offer original experiences to enjoy together.
_
Staying at Huttopia Senonches also gives you the chance to enjoy a forest spa and open-air sauna, take a canoe or rowboat out onto the lake and stay on a fully pedestrianised site without Wi-Fi – and that's not all! Kids can play in the indoor heated pool while you lounge beside the outdoor pool or on a sun lounger by the lake. You can sit out on the deck of your Cahutte or Cabane to enjoy your breakfast or a barbecue cooked on the plancha grill. There's even a pizza oven so you can get quality pizzas to take away.
_
When it comes to places to visit, we recommend you stay in the vicinity of Senonches. Visit the château and the town hall and go for walks in the Senonches forest, which is one of the largest in France.
_
Village Huttopia Senonches –  Étang de Badouleau, 28250 Senonches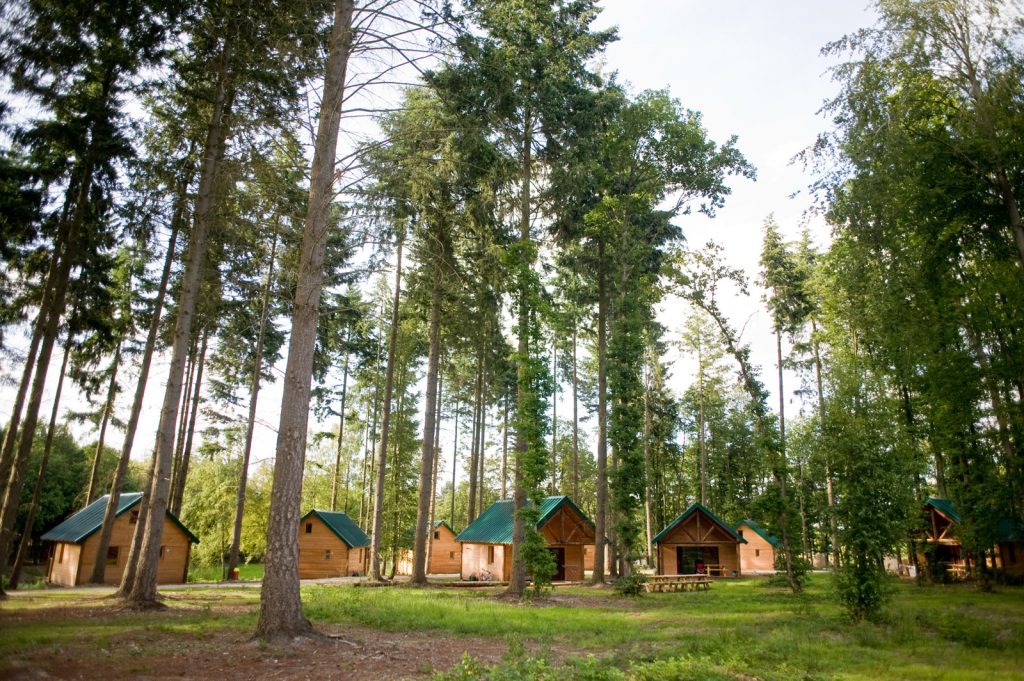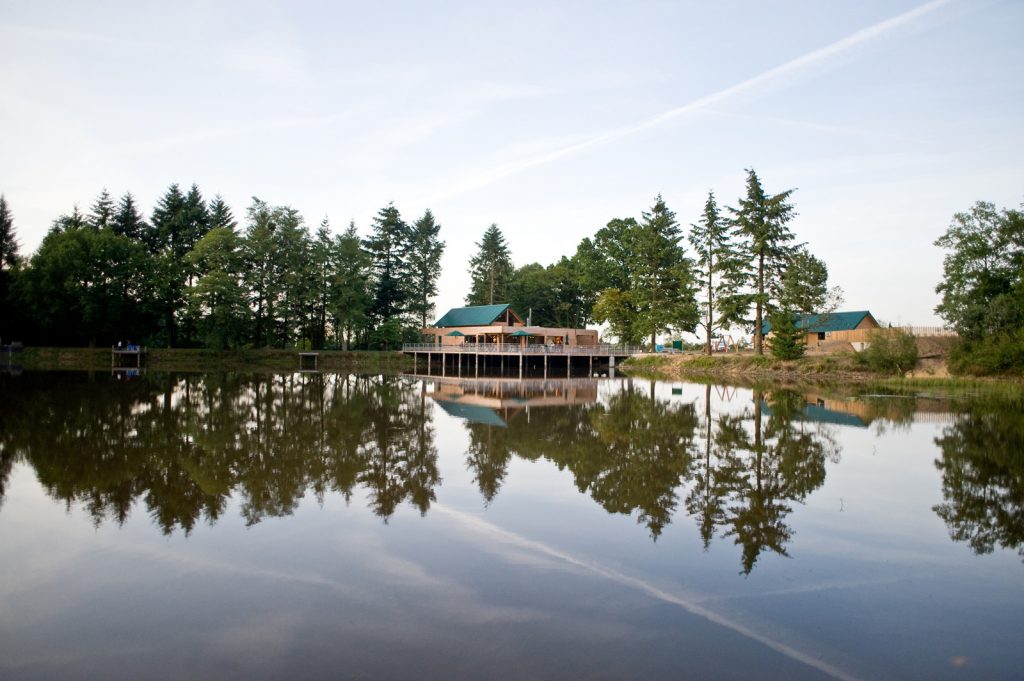 3 | A summer holiday just outside Paris at Huttopia Versailles
Huttopia Versailles campsite, located only around 20km from the centre of Paris, is the ideal place to take some time out with family or friends. Haven't got a car? No biggie. You can get there on public transport with the RER C train. No need to hire a car to have a great holiday! Huttopia Versailles has a heated swimming pool, a Central Lodge, a Pizza Grill, an outdoor seating area, pétanque and a ping-pong table. Everything you need to have a great time!
Come and enjoy a getaway in the heart of nature at Huttopia Versailles. Think fun bike rides in the forest followed by nice barbecues together as the sun sets. And if you haven't visited the Palace of Versailles, this is your chance. It's only five minutes away from the campsite. Make sure you see the famous Jeu de Paume room, the state apartments and the King's stables.
_
If you want to do some traditional camping, you can book a pitch and bring your own tent. Or if you want a bit more comfort, we recommend you book a wood and canvas tent, a Cahutte or a chalet. All three are ideal for spending quality time as a family. If you're travelling as a couple, opt for the authentic atmosphere of a Trappeur tent.
_
Camping Huttopia Versailles – 31 Rue Berthelot, 78000 Versailles